News / General /
September 2007
Stereo Image - Mp3s available
Mp3s for the first Stereo Image release are now available on Bleep.
Red Nights is also on the
Pitchfork Forkcast
.
August 2007
Stereo Image - "re-designing the 3 minute pop single for the 00s."
The first release by our new acts Stereo Image will be a double A side available as a pre-release via Bleep on the 3rd of September 2007. We're also planning a short run of 7 inch vinyl as well as 2 further mp3 releases from Stereo Image and look out for these adverts in the music press over coming months. Also Stereo Image are on myspace and get in early to join the facebook fanclub.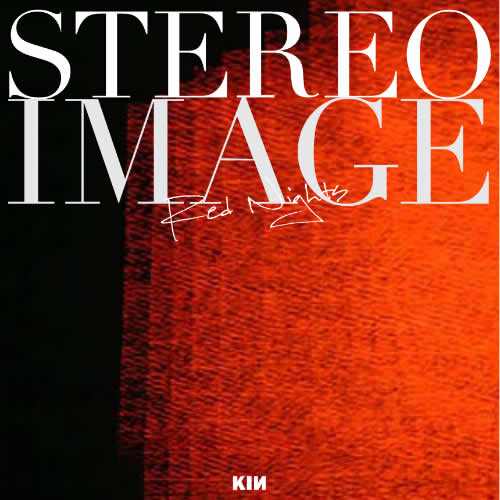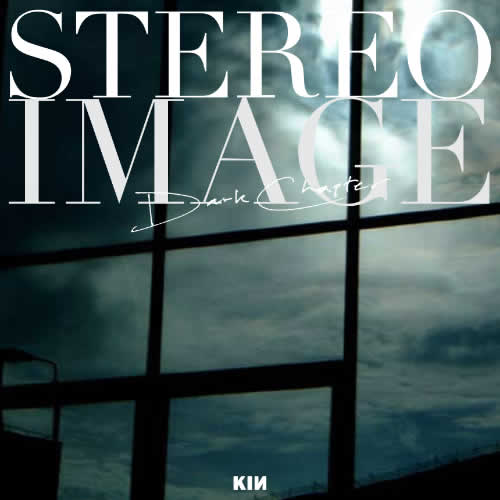 April 2007
Stereo Image
KIN's new signing is featured in this months issue of FACT magazine, more news and audio clips soon.. (click the image to read the full article).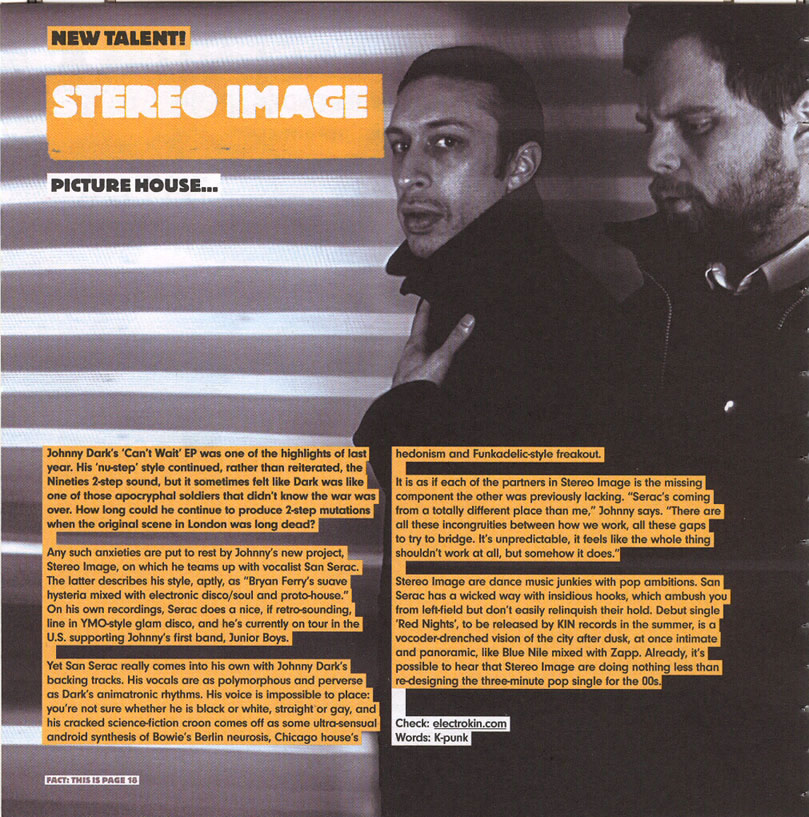 January 14th 2007
New Year, New News
So.. The last KIN release made it to a couple of end of year lists: the excellent Woebot dot TV and Mary Anne Hobbs. We have big plans for 2007 so watch this space for some new electronic Pop music.. And regretably we now have a myspace
July 12th 2006
The Breezeblock
HCD2 is this weeks "Breezeblock Bomb" and vinyl is in shops now, you can also order it online from Boomkat and Juno.
August 17th 2006
The Breezeblock #2
Johnny Dark and the Junior Boys have both done a Breezeblock mix for Radio 1 (thanks Mary Anne) listen here.
July 12th 2006
The Breezeblock
HCD2 is this weeks "Breezeblock Bomb" and vinyl is in shops now, you can also order it online from Boomkat and Juno.
July 2006
Anticipation
KIN 004 is a featured release on Stylus this week:
- The echolocation hand-percussion and ghostly 80s digital keyboards sound like Nelly Furtado's "Maneater" if it couldn't keep a meal down. Like all the best 2-step, the beat in(ter)ventions of "Can't Wait" are like a summer's day, but this is one where even at it's hottest you can feel the tingle of electricity on your bare forearms, the warning of the sudden darkness of a coming lightning storm. "Never Happened" and "It's Too Close" pitch up exultant female voices 'til they're plastic smooth—grainless—then balances them unsteadily on waves of bass; like the whole EP it's vertiginous and exhilarating.


Patrick McNally - read more
Its also been getting played on Radio 1's breezeblock.
Bleep
KIN004, is now available pre-release on bleep.com.
Vinyl has been delayed a bit, and will be in shops on the 10th of July.
June 2006
KIN 004 release date
KIN004, The new Johnny Dark EP will be out in stores on the 3rd of July, its being distributed by Baked Goods, MP3's should also be available on Bleep and eventually Itunes, and some full length previews are currently available on last.fm and myspace.


May 2006
Woebot
Reports are already coming back from the very few promos we've sent out so far, if you'd like a promo please email
info@electrokin.com
and tell us who you are.
-
As invitingly improbable as the German Something J/DJ Maxximus's "Mercedes Bentley vs Versace Armani" as improbably inviting as The Soft Pink Truth's classic "Do You Party", both similar examples of orphaned electro-pfunk this EP deserves to be massive.
Matt Woebot -
Read the full review here.
Sleeves
Lots of thanks to Tom Phillips for his sterling work on the sleeves for the new Johnny Dark record (photography by Nick Kilroy):
Front:
Back:
Vinyl
KIN004 has been mastered and we finally have some nice black vinyl to listen to: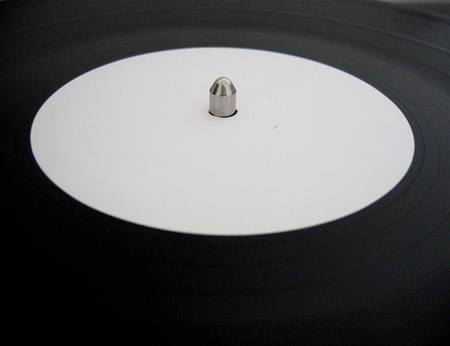 April 2006
Johnny Dark - Can't Wait
KIN004 a new EP by Johnny Dark is currently being mastered, and should be in the shops sometime in June, you can here some audio clips here, and read some more about it here.


-
Listen to the skittergun throb of Johnny's new EP and you're reminded of that glorious time not so long ago when Timbaland and 2-step ruled, and it was as if everything on the radio had caught a benign percussion virus, a communicable disease which transformed vocals as well as beats into an urgent rhythmic chatter.
Mark Fisher -
K-punk